Baseboard Heating
Question Topic
Baseboard Heating Thermostats Won't Turn Off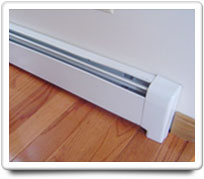 Home-Wizard™ calculates your ideal home care program to avoid problems with your Baseboard Heating, but sometimes trouble can still occur. Here are answers to questions about baseboard heating thermostats won't turn off.

QUESTION FROM Michelle
I have electric baseboard heat. Last year we replaced all the thermostats twice because they were turning on but not turning off. This year we are having the same problem, theyhave to be set VERY low, 50-55 to keep the rooms 60-65 and once they go on they don't shut off, I have to manually lower the thermostat to turn the baseboards off. Any ideas what else it could be? It can't be the thermostats we have been through 2 sets.
---
ANSWER FROM HOME-WIZARD
Dear Michelle:

If you have replaced the thermostats for your electric baseboard heaters, and they turn on, but won't turn back off when the room comes up to temperature, here are a couple things that you might want to check:

1) check to be sure that that the thermostats that you installed are the right type for your particular electric baseboard heaters (for example, single pole versus double pole).

2) check to see if there is open space behind where your thermostats are mounted, such that cold air from inside the wall could be blowing onto the thermostat and keeping it too cool (which could be causing it to stay on).

Hope this is helpful. If neither of these turn out to be the problem, then just let us know, and we'll see if we can come up with something else for you.

Home-Wizard.com
Baseboard Heating