Baseboard Heating
Question Topic
Baseboard Heating Leaking Baseboard Radiator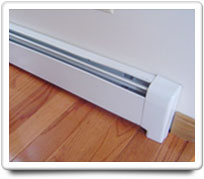 Home-Wizard™ calculates your ideal home care program to avoid problems with your Baseboard Heating, but sometimes trouble can still occur. Here are answers to questions about baseboard heating leaking baseboard radiator.

QUESTION FROM Milton
we have a leak in our cast iron 10inch high base board radiator at the seam. this is in our living room. what options do you suggest for repair other than replacing the section.
---
ANSWER FROM HOME-WIZARD
Dear Milton:

Regarding whether or not the leak in the seam of your cast iron radiator can be repaired, it will depend on the severity of the crack, and where on the seam it is located. You might want to try contacting local qualified heating contractors, who can actually see your radiator and evaluate whether a repair in-place is possible.

An alternative, which I've heard of, but do not have experience with, is a product by a company called J-B Weld from Sulphur Springs, TX (903-885-7696). I've been told that their product can be used to repair cracks in cast iron radiators.

Hope this is helpful.
Home-Wizard.com
Baseboard Heating