Baseboard Heating
Question Topic
Baseboard Heating Energy Efficiency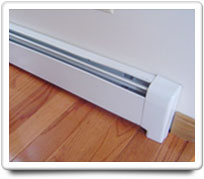 Home-Wizard™ calculates your ideal home care program to avoid problems with your Baseboard Heating, but sometimes trouble can still occur. Here are answers to questions about baseboard heating energy efficiency.

QUESTION FROM Joe
Does putting aluminum foil on base board vents cut down on the heat in the room.and is energy efficient. I have more heat on the second floor than first one zone heating
---
ANSWER FROM HOME-WIZARD
Dear Joe:

It sounds like you have hot water baseboard heating radiators that are located on two different floors, and you want to reduce the amount of heat that comes from the baseboard radiators on the second floor, right?

If this is the case, then yes, covering the vent opening of the baseboard radiators on the second floor with aluminum foil will reduce how much heat comes from this section of the radiators. The way it does this is that it reduces the flow of heated air (convection) that rises past the heat exchanger fins on the baseboard radiator. With less air flowing past the fins, there is less heat taken away from the hot water circulating in the pipes.

If you want to permanently reduce the amount of heat transfer from this section of baseboard radiator, depending on the specific design of your baseboards, you might be able to carefully remove the fins from part of some of length of it. This is another way of reducing the heat transfer properties. But be aware that once you remove the fins, you will likely have to replace the entire baseboard radiator if you ever wanted them back.

Regarding your question of whether it is energy efficient to use aluminum foil to block the vents, the most energy efficient thing to do is to resize the sections of your baseboard heaters so that the proper amount of heat goes to the first and second floors. But in an existing house, this is not usually very practical. By reducing the heat coming out of the second floor with the aluminum foil, your boiler and circulation pump have to move the water all the way around, even though you don't need all of the heat on the second floor. So this does not promote energy efficiency. Its similar to why we tell people not to block their baseboard radiators with furniture and draperies, since this reduces the efficiency of heat transfer from the units. But of course, this is what you are trying to do (that is, reduce the amount of heat coming to the room).

Hope this is helpful.
Home-Wizard.com

QUESTION FROM msuebelhor
All of our baseboard heaters run on one thermostat. There are two rooms we do not use in the winter. Would it be more energy efficient to close the louvers and close the doors to the room or keep them open to heat the unused room and keep the room door open or does it matter?
---
ANSWER FROM HOME-WIZARD
Dear msuebelhor:

To answer your question with complete certainty, I would need to see the sizes of the rooms, the amount of baseboards in each, which rooms have external walls, the location of your thermostat, etc. But with that said, an easy test that you can do is to close the louvers on the baseboards in your un-used rooms, and close the doors on these rooms. Then wait a day or so, and then check the temperature in the un-used rooms (the ones with the doors closed). If the temperature of the rooms with the louvers and doors closed is lower that the areas that you are living in, then it is more energy efficient to do it this way. On the other hand, if after a day or so the temperature in the rooms with the louvers and doors closed is the SAME as the other areas, then it probably doesn't matter whether or not you close the louvers and doors (but I would suggest that you close the louvers anyways).

Hope this is helpful.
Home-Wizard.com