Baseboard Heating
Question Topic
Baseboard Heating Radiator Not Working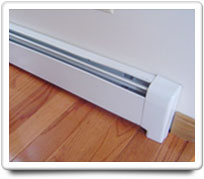 Home-Wizard™ calculates your ideal home care program to avoid problems with your Baseboard Heating, but sometimes trouble can still occur. Here are answers to questions about baseboard heating radiator not working.

QUESTION FROM confused
Upstairs radiators are cold and down stairs are hot. Just repaired recirculation pump and still no heat upstairs. Bled all radiators and no heat upstairs.
---
ANSWER FROM HOME-WIZARD
Dear confused:

Since you have already repaired your recirculation pump, bled all radiators, and you are not getting heat in only one zone of radiators, then here are a couple possible causes of why you are not getting heat in your upstairs radiators:

1) It could be possible that you have dedicated circulators for different heating zones in your home. If so, you should check to see if the circulator for your upstairs radiators has failed.
2) If not, you should check the zone valve that serves your upstairs radiators. The water pipe should be hot both upstream and downstream of this zone valve. If the valve is bad or stuck, it will be hot upstream of the valve, but then cool downstream of the valve. (Upstream refers to the piping that is in the direction of the boiler)

Hope this is helpful.
Home-Wizard.com

QUESTION FROM Patti
We have baseboard heat downstairs, radiator heaters in upstairs. Only one radiator gets warm (VERY warm), one other gets minimally warm. The other 2 stay cold. Have tried bleeding them. Help?! Please.......Thanks…
---
ANSWER FROM HOME-WIZARD
Dear Patti:

If you've already tried bleeding the two radiators that are not heating up, and if these two radiators are the ones located upstairs, then the problem could be that you heating system's expansion tank maybe empty. You would need to check the ball valve in the tank and fill the tank enough to get the ball to float when the system is cool.

On the other hand, if is not the upstairs radiators that are not heating up, then here is a webpage that describes solutions for different kinds of radiator problem situations, and hopefully you can find the situation that matches what you are seeing at your home:

http://www.diynot.com/pages/pl/pl033.php

Hope this is helpful.
Home-Wizard.com

QUESTION FROM BILL
SOME OF THE RADIATORS FOR MY BASEBOARD HEATING SYSTEM ARE NOT HEATING UP. OTHER RADIATORS BEFORE AND AFTER THE PROBLEM ARE HEATING UP AS THEY ARE FED BY THE SAME OUTLET. COULD THIS BE
THAT THERE IS AIR IN THE SYSTEM ?
---
ANSWER FROM HOME-WIZARD
Dear Bill:

Regarding your question about your baseboard heating system, if I understand your problem correctly, the radiators that you are referring to are all in the same zone, right? If they are, then yes, the problem could be that you have air trapped in one section of radiators, and this is keeping this section from properly heating up.

However, if the section of baseboard where you are having problems IS in a separate zone from the other sections, then the problem could still be with air trapped in this zone, but it could also be a problem with the zone valve or thermostat for this zone.

Hope this is helpful.
Home-Wizard.com

QUESTION FROM Adam
I have a 6 zone water heated system with 3 circulating pumps, 2 zones and 1 pump per floor. Last year I had to bleed the air from several of the radiators on the 3rd (top) floor. This year most of the radiators on the 3rd floor are not getting very warm. I went to begin bleeding the air again and discovered that when I opened the bleeder valve on the first 2 radiators that they were sucking air in and not releasing it out. What could make this happen? I also observed at one point that all 3 of the pipes leading to the circulating pumps were warm but the pipe supplying hot water to the 3rd floor was cold.
---
ANSWER FROM HOME-WIZARD
Dear Adam:

From what you've described, I'm wondering if you have a blocked water feeder pipe.

If water supply is properly coming into the system, then when you open the bleeder valve, air should come out followed by water. If water is not coming out then it's possible that something is blocking the water from coming in.

Hope this is helpful.
Home-Wizard.com