Baseboard Heating
Question Topic
Baseboard Heating Bad Zone Valve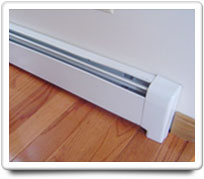 Home-Wizard™ calculates your ideal home care program to avoid problems with your Baseboard Heating, but sometimes trouble can still occur. Here are answers to questions about baseboard heating bad zone valve.

QUESTION FROM brick sidewalks
I live in a condo with a baseboard hot water radiator that was not turning off even after the manual control valve was turned off. After removing the control valve and cleaning the water corrosion from the valve stem, I was able to get the valve to terminate the hot water supply to the radiator (when the stem was pushed in). However, now there is a steady drip originating from the stem when the radiator is turned on. When the radiator is off the drip increases and becomes a small stream. The nut around the stem won't budge (either because it is stuck or is already as tight as it can be). The valve is only about 5 years old or less. I have noticed that turning the stem with a wrench does help reduce the drip but does not stop it. Any and all thoughts welcome.
Thank you!
---
ANSWER FROM HOME-WIZARD
Dear "brick sidewalks":

From what you've described, it sounds like you have a bad zone valve, and that it needs to be replaced.

Hope this is helpful.
Home-Wizard.com
Baseboard Heating