Pest Control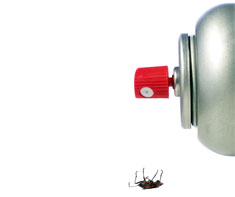 Pest Control is the inspection, prevention and treatment to rid your home of household pests.

Pest Control addresses pests such as:

- TERMITES;

- INSECTS (such as ants, bed bugs, carpet beetles, clothes moths, cockroaches, houseflies, mosquitoes, silverfish, and spiders); and

- ANIMALS (such as bats, mice, rats, moles, squirrels, chipmunks, and rabbits).

The battle with pests involve three steps:

1. Inspection: to detect evidence of pests and conditions that lead to pests.

2. Prevention: by cleaning and erecting barriers to entry.

3. Extermination or removal: to get rid of pests if infestations have already begun.
Shown in the 'Routine Care' section are the recommended routine maintenance tasks for your pest control. The 'Q & A' section shows answers to common questions. And the 'Articles' section provides helpful articles about your pest control.
Q & A
So far, no question have been submitted yet.
Pest Control