Baseboard Heating
Question Topic
Baseboard Heating Heater Won't Turn Off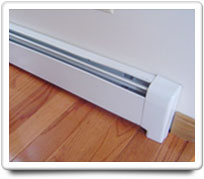 Home-Wizard™ calculates your ideal home care program to avoid problems with your Baseboard Heating, but sometimes trouble can still occur. Here are answers to questions about baseboard heating heater won't turn off.

QUESTION FROM Carmen
I just bought a house that has 2 baseboard heaters that are connected to one thermostat. I turned the heat up a few days ago and then turned it back to the off position later that day. However, one heater is still running, but the other is not. Additionally, the wall above the heater that's still running is darkened, as if the wall has gotten very hot before. What do I do?
---
ANSWER FROM HOME-WIZARD
Dear Carmen:

That is very odd that your thermostat turned on both of your baseboard heaters, but will only turn one of them back off.

For the baseboard heater to continue to run hot, the thermostat connection would need to be made, the boiler would need to be on, and the water valve to the baseboard would need to be open. Even if the valve was stuck open, the baseboard would not get hot if the boiler didn't stay on. And the boiler wouldn't stay on if the thermostat connection wasn't still being made.

As such, I would suggest checking is to see if there is either some loose wiring around your thermostat, or if the thermostat itself has gone bad.

Hope this is helpful.
Home-Wizard.com
Baseboard Heating