Baseboard Heating
Question Topic
Baseboard Heating No Heat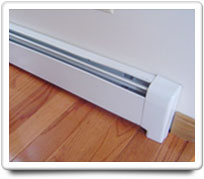 Home-Wizard™ calculates your ideal home care program to avoid problems with your Baseboard Heating, but sometimes trouble can still occur. Here are answers to questions about baseboard heating no heat.

QUESTION FROM Scott
We have a Weil McLain boiler PCG-5. We have no manual to assist us, so thank you for any help you can offer. This is a two story house. There are two tyco valves. We are not getting any heat upstairs and the downstairs is just maintaining a 70 degree temp regardless of how high we turn up the thermostat. Water temp reaches 185 degrees, but no pressure. Help!!! Thanks!
---
ANSWER FROM HOME-WIZARD
Dear Scott:

Does you system have an automatic water make-up valve? If so, you can try manually opening this make-up valve to see if this will allow the pressure in your system to increase.

If you do not have an automatic water make-up valve, then locate the water inlet valve for your system and open this valve and see if this allows the pressure to build up in your system.

If these don't work, then just let us know, and we'll see if we can come up with something else for you.
Home-Wizard.com

QUESTION FROM jamesbarlow8
have a fully pumped domestic heating system and after I drained it (cleaned out with Fernox)I cannot get it to pump through the radiators,hot water is OK, I have fitted anew pump and zone valve and bled all points.
---
ANSWER FROM HOME-WIZARD
Dear jamesbarlow8:

Have you checked to se if the zone valve had gotten installed backwards? This happens sometimes.

Regards,
Home-Wizard.com