Baseboard Heating
Question Topic
Baseboard Heating Cleaning Bathroom Baseboard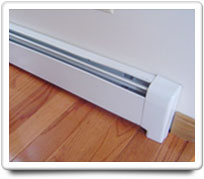 Home-Wizard™ calculates your ideal home care program to avoid problems with your Baseboard Heating, but sometimes trouble can still occur. Here are answers to questions about baseboard heating cleaning bathroom baseboard.

QUESTION FROM Daleytwo
Help! Bathroom baseboard (right next to the toilet) and three boys in the house, need I say more? Have cleaned outside and inside as much as I can and was able to take somewhat apart. Cleaned all the copper pipes, but the metal fins are impossible to clean since they bend right up. I am wondering If I can spray some odor eliminator, or cleaning products right into it. I realize I will have to do this many times, and yes it will probably rust a bit, but I can live with that. And hopefully will eventually get better. Do you have any ideas or tips?
---
ANSWER FROM HOME-WIZARD
Dear Daleytwo:

Having baseboard heating right adjacent to the toilet does make for some problems. But here are some suggestions that hopefully will help you.

First regarding cleaning this area, as you know the most difficult part is cleaning the "fins" on the radiator pipe. You will want to be very careful cleaning around this area, so as not to bend the fins. They work best when they are spaced evenly, and allow air to flow unobstructed through them. Rather than spraying cleaning products into the fins, which you won't be able to wipe completely out, a better alternative is to use a steam cleaner with a wand attachment. Here's a link to a company that shows how this works (we are not familiar with this particular company, but their website shows the technique): http://refreshyourhome.com/new-steamer-windows/a-Before-and-After-Pictures.html

The other thing you might want to think about, if you haven't already, is installing a "splash guard" above this section of the baseboard heating system.

Hope this is helpful.
Home-Wizard.com
Baseboard Heating