Baseboard Heating
Question Topic
Baseboard Heating Reducing Energy Costs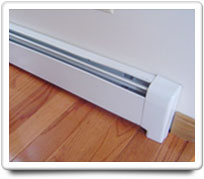 Home-Wizard™ calculates your ideal home care program to avoid problems with your Baseboard Heating, but sometimes trouble can still occur. Here are answers to questions about baseboard heating reducing energy costs.

QUESTION FROM Heather F
I moved into a new apartment with baseboard heat in July. It is hot water baseboard. I have never had this kind of heat before and know nothing about it. My electric bill was much higher in January than normal. Could this be from the pump or circulator running more than normal. The weather has been very cold.
---
ANSWER FROM HOME-WIZARD
Dear Heather F:

When you say your electric bill was much higher in January than normal, do you mean higher than past Januarys? Or do you mean higher than earlier in the year?

The reasons why electric bills can be higher in January include:

o as you suspected, yes, the circulation pump on your hot water baseboard heating system needs to run for longer periods of time.

o shorter daylight hours during the winter lead to longer use of electric lights.

o colder inlet temperature of water means that an electric water heater needs to work harder.

o higher energy costs can have a major impact on your electric bill, even though your usage may not go up. In other words, if you look at your bill from your electric utility or supplier, you will likely see it broken out into components such as "energy costs", "transmission costs" and your "usage". During the winter when energy demand is higher, the energy cost component can go up, which makes your bill go up, even if your usage stays the same.

If you are concerned about reducing your energy costs for your apartment, you can find helpful tips on the Energy Saving Tips webpage of our online Maintenance Library:

http://www.home-wizard.com/maintenance/energysavingstips.asp


Hope this is helpful.
Home-Wizard.com
Baseboard Heating