Baseboard Heating
Question Topic
Baseboard Heating Poor Insulation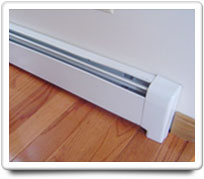 Home-Wizard™ calculates your ideal home care program to avoid problems with your Baseboard Heating, but sometimes trouble can still occur. Here are answers to questions about baseboard heating poor insulation.

QUESTION FROM sue in pa
We just moved into a very old home. We have baseboard gas heat and the first floor is quite cool, while the second floor is very warm. The thermostat is set at 62 degrees. Ssomeone told me to bleed the heater, but I can't find a valve. Can you help me?
---
ANSWER FROM HOME-WIZARD
Dear sue in pa:

Regarding your question of how to bleed air out of your baseboard hot water system, you can find the answer to this on our Baseboard Heating System Page of our online Maintenance Library:

http://www.home-wizard.com/maintenance/baseboardheating.asp

However, the fact that you say it is a very old house, and that the second floor is warm and the first floor is cool, makes me wonder if part of your problem might be due to poor insulation.

As you probably know, heat rises. So if your first floor is drafty (for example, from poor weatherproofing and sealing around external doors), and there is no insulation in the flooring/ceiling between your first and second floors, then the heat could be rising up out of the first floor (making it feel cooler) to the second floor (making it feel warmer).

So you might also want to consider weatherproofing and caulking your doors and windows. And if the doors and windows don't have storm doors and windows, you might want to add these. And finally, if they are very old, you might even want to consider upgrading them to higher insulation ratings.

Hope this is helpful.
Home-Wizard.com
Baseboard Heating