Dishwasher
Question Topic
Dishwasher Noise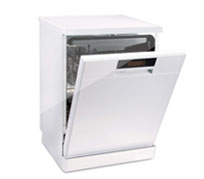 Home-Wizard™ calculates your ideal home care program to avoid problems with your Dishwasher, but sometimes trouble can still occur. Here are answers to questions about dishwasher noise.

QUESTION FROM rbyford
QUESTION from rbyford on 3/16/2008:

When I run our dishwasher I hear a high-pitched buzzing sound while it's running. Also, the soap dispenser doesn't seem to be working right and the dishes are not getting clean. It's in good shape inside but is 13 years old.
---
ANSWER FROM HOME-WIZARD
Dear rbyford:

It sounds like you dishwasher has some debris caught in the pump assembly. This could explain both the high-pitched noise and your unit's poor cleaning performance.

Depending on your particular model, you (or a trained technician would have to pull out the dishwasher from its installation and disassemble the lower spray arm section to check for debris in the pump.

Hope this is helpful.
Home-Wizard.com