Fireplace (gas)
Question Topic
Fireplace (Gas) Flame Height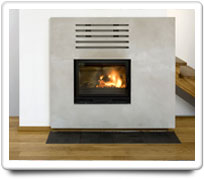 Home-Wizard™ calculates your ideal home care program to avoid problems with your Fireplace (gas), but sometimes trouble can still occur. Here are answers to questions about fireplace (gas) flame height.

QUESTION FROM BrendaJ61
I have a propane gas log fireplace that I use very rarely. I just had the tank filled, but when I turn on the fireplace, the burner lights, but the flame never gets higher than the burner. Any suggestions?
---
ANSWER FROM HOME-WIZARD
Dear BrendaJ61:

Most gas log fireplaces allow you to adjust the flame height. To see exactly how to do this, you should look at your owner's manual (or go online to get one from the manufacturer of your specific fireplace).

But if you have not had your fireplace serviced for a while by a qualified service technician, then you should definately schedule a visit as soon as possible. I'd be suspicious as to why the flame height has gone down, and whether there are any obstructions. With gas fireplaces it is always best to be on the safe side. A qualified service technician can check things out and make sure that everything is operating properly.

Hope this is helpful.
Home-Wizard.com