Water Heater (electric)
Question Topic
Water Heater (Electric) Tankless Water Heater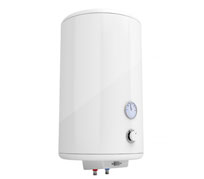 Home-Wizard™ calculates your ideal home care program to avoid problems with your Water Heater (electric), but sometimes trouble can still occur. Here are answers to questions about water heater (electric) tankless water heater.

QUESTION FROM Marge
My house lacks enough hot water to fill the bath tub. I have an oil furnace, baseboard heat, with no hot water tank. What should I check first to improve more hot water. Thanks much.
---
ANSWER FROM HOME-WIZARD
Dear Marge:

You said that you do not have a hot water tank in your house. Where does your hot water for your bath come from now? Do you have a "tankless" water system? Is your only hot water heater the furnace for your baseboard heating system? And you do not have a separate hot water heater?

Home-Wizard.com

FOLLOW-UP FROM Marge
In response to your questions: I don't know where my bath hot water comes from exactly. I'm not very familiar with my system, so I'm trying to best to answer your questions. I don't have your "typical" hot water heater that is a system in itself holding mega gals. of water. There is a sm. water tank stationed below my furnance in the house crawl space approx 3' tall and no wider than 2'. This seems to be connected to the furnace. Heat thruout the house is fine, it's just the faucett hot water being a problem. I hope I've answered your questions. Thanks
---
ANSWER FROM HOME-WIZARD
Marge: . . .

I see, so it sounds like you do have a tank which may be part of your domestic hot water system. Why don't we take this is two parts. First, let's try to figure out what type of domestic hot water system you have. And then secondly, once we know what kind of system you have, then we can try to determine why it is not delivering enough hot water for your needs. So first, here is a web page which describes the various types of domestic hot water systems: http://www.diydoctor.org.uk/projects/domestic_hot_water_systems.htm Which of the systems described would you say is most like the system in your home?

Regards,
Home-Wizard.com

FOLLOW-UP FROM Marge
Good Day~ In response to Jan 23...upon much inspection I declare that I have no tanks hooked up to my furnace except an expansion tank. Unless it is hidden in the furnace. The tank I mentioned earlier which rests in the crawl space was for the well water, which is no longer in use. My best guess is my system heats cold water no demand, yet I don't ever recall running out of hot water??? Thanks for your time.
---

FOLLOW-UP FROM Marge
Not being able to see the inside of my furnace, I'd have to agree with your latest link, the tankless water heater. I have no tanks anywhere in the house except the expansion tank. Thanks for your time.

QUESTION FROM Art
Other than the obvious advantage of "unlimited" hot water, are tankless water heaters more economical than a hot water tank? Assume that we're putting in a new system and typically do not run out of hot water (i.e. usage is less than 40 gallons at one time). If tankless systems are more economical to run, is electric or gas (we actually have LP) more economical?
---
ANSWER FROM HOME-WIZARD
Dear Art:

Here is a webpage that describes the advantages and disadvantages of the various types of tankless water heaters (its about 3/4 of the way down the page):

http://en.wikipedia.org/wiki/Water_heater

Unfortunately, one of the disadvantages is the economics.

Hope this is helpful.
Home-Wizard.com