Water Heater (electric)
Question Topic
Water Heater (Electric) No Heat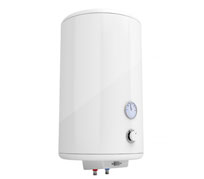 Home-Wizard™ calculates your ideal home care program to avoid problems with your Water Heater (electric), but sometimes trouble can still occur. Here are answers to questions about water heater (electric) no heat.

QUESTION FROM madelarge
My heat and water is ran by gas. The lights went out and the pilot light went out on the hot water heater. I was able to ignite it but the heat is not igniting. Both look like they are using the same gas line.
---
ANSWER FROM HOME-WIZARD
Dear madelarge:

It sounds like you are still getting gas supply, since you were able to relight your hot water heater.

When you say that "the lights went out and the pilot light went out", did you mean that the power in your home went out? Or did you mean that the pilot light went out? If it was a power failure, have you checked whether the fuse or circuit breaker has tripped on your furnace? Are you exactly following your manufacturer's recommended procedure for relighting your furnace, (which could be a different procedure from your water heater)? The relighting procedure should be fastened somewhere on your furnace. It could also be that the thermocouple has failed on your furnace.

Remember, if you smell gas in your house, do not turn any lights on or off, and do not try to shut off the gas leading to the furnace. Get out of the house, leaving the door open, and immediately call the gas company or the fire department to report a leak. Do not re-enter your home. Do not use the phone or your cellphone from inside the house.

Home-Wizard.com