Water Heater (electric)
Question Topic
Water Heater (Electric) Pilot Light Issue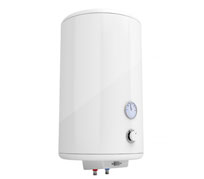 Home-Wizard™ calculates your ideal home care program to avoid problems with your Water Heater (electric), but sometimes trouble can still occur. Here are answers to questions about water heater (electric) pilot light issue.

QUESTION FROM EazyMoney
My waterheater pilot light keeps going out. Its an electric switch to light the pilot. Atleast twice a day this happens and i have to wait for the water to warm back up or take a cold shower. What should I do? Why does it keep going out?
---
ANSWER FROM HOME-WIZARD
Dear EazyMoney: I would suggest that you have a trained profession inspect your water heater and vent system. The problem with your pilot light going out on your water heater could be caused by a partial blockage in your venting (soot, vent cap obstruction, etc.), or it could be a problem with your thermocouple (bulb not being contacted properly, etc.). Hope this is helpful. Home-Wizard.com