Plumbing
Question Topic
Plumbing Miscellaneous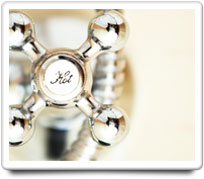 Home-Wizard™ calculates your ideal home care program to avoid problems with your Plumbing, but sometimes trouble can still occur. Here are answers to questions about plumbing miscellaneous.

QUESTION FROM Eric
I need a plumbing contractor in Edwardsville to replace all my water lines. I want to use Pex. I also need some new windows and storm window glass. I hit your link to "local contractors" and get "HTTP Error 404.0 - Not Found The resource you are looking for has been removed, had its name changed, or is temporarily unavailable." Is the link working?
---
ANSWER FROM HOME-WIZARD
Eric:

Sorry that you are having problems. We've not been able to re-create the problem that you are having. We've tested the page using several different browsers, and the page displays alright.
We will continue to work on this to see what could be causing the problem that you mentioned. In the meantime, here is a direct link to the page: http://www.home-wizard.com/Find_Contractors.asp?cbc
Hopefully this link will work for you, while we are continuing to investigate what could be causing the problem that you are seeing.

Regards,
Home-Wizard.com

FOLLOW-UP FROM Eric
Thanks. I should have updated you; about 10 minutes after I sent the email, I got connected, at least partly. Will continue to work it.
---
ANSWER FROM HOME-WIZARD
Eric:

. . . no problem. Hopefully it was just a rare intermittent glitch, but nonetheless, we will still continue to check it out. When you do get a chance to look at our "Local Contractors" page, you will see the links to "Angie Lise" and "Yahoo Local." Angie's List is a subscription service where members provide feedback on local contractors.
And Yahoo Local is a free "yellow pages" service for finding local contractors.

Hope this is helpful. If you need anything else, please don't hesitate to let us know.
Home-Wizard.com