Furnace (gas)
Question Topic
Furnace (Gas) Exhaust Vent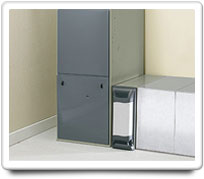 Home-Wizard™ calculates your ideal home care program to avoid problems with your Furnace (gas), but sometimes trouble can still occur. Here are answers to questions about furnace (gas) exhaust vent.

QUESTION FROM Steve H
A couple of years ago my son put rocks down the furnace exhaust vent which vents to the outside at the back of our house. I am assuming it is venting properly since I feel air coming out. Do I have anything to worry about? Should I clear out the rocks?
---
ANSWER FROM HOME-WIZARD
Dear Steve:

I would strongly suggest that you have the rocks removed from your furnace exhaust vent. Just because you can feel air coming out doesn't mean that you are getting the designed flow to ensure proper combustion in your furnace. It is not worth taking the risk of having dangerous exhaust gas backing up into your house, or having improper combustion risking deadly CO gas being produced.

Hope this is helpful.
Home-Wizard.com