Garbage Disposal
Question Topic
Garbage Disposal Usage Questions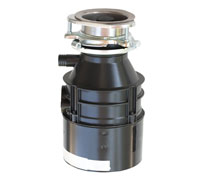 Home-Wizard™ calculates your ideal home care program to avoid problems with your Garbage Disposal, but sometimes trouble can still occur. Here are answers to questions about garbage disposal usage questions.

QUESTION FROM Molly
Is it best to use cold or hot water when using the disposal? Or does it matter either way? I thought hot, but recently heard to use cold.

Thank you!
---
ANSWER FROM HOME-WIZARD
Molly:

When you operate your disposal, you should use cold water, not hot. Hot water can melt fats which makes it easier for them to clog the disposal mechanism and your pipes. Running your disposal with cold water also helps to keep the mechanism to operate cooler when its running.

But when you are not operating your disposal, it is fine to run hot water through it.

Hope this is helpful.
Home-Wizard.com

QUESTION FROM Glynda Thompson
We have a home for sale and it has been on the market for over a year. My husband is concerned that the garbage disposal will rust and freeze up due to lack of use. He feels that we should pour in some vegetable oil to lubricate and protect it. I'm concerned that the oil will clog the drain. Should we be concerned and if so what should we do?
---
ANSWER FROM HOME-WIZARD
Dear Glynda:

Yes, there is a risk that a garbage disposal that is not run for long periods of time could rust up. And you are correct that it's not best to pour vegetable oil down your drain. In addition, vegetable oil will tend to dry out fairly quickly.

Instead, I would suggest that you spray WD-40 light lubricating oil into your garbage disposal. This will inhibit rust formation, and will it will last for quite a while went the disposal is not being used.

Hope this is helpful.
Home-Wizard.com