Clothes Dryer
Question Topic
Clothes Dryer (Electric) Replacements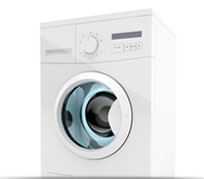 Home-Wizard™ calculates your ideal home care program to avoid problems with your Clothes Dryer, but sometimes trouble can still occur. Here are answers to questions about clothes dryer (electric) replacements.

QUESTION FROM Lori
I just replaced the thermal fuse in my clothes dryer. Does it make a difference as to how it goes back on? It is working.
---
ANSWER FROM HOME-WIZARD
Dear Lori:

If I understand your question, you've replaced the thermal fuse in your clothes dryer, and are wondering which direction the fuse gets installed back in your dryer? If this is your question, the answer is that depending on the model of dryer, it should not matter, but its usually best to install the new one the same way as the old one came out.

On the other hand, if your question is what is the correct procedure for turning your clothes dryer back on after replacing the thermal fuse, then the most important thing is that you thoroughly clear the dryer vent piping before turning your dryer back on. The reason for this is that your thermal fuse blew because your dryer exceeded its temperature limit, and this is usually because lint has built up your dryer's vent pipe, blocking air flow and making your clothes dryer run too hot.

One additional thought for you is that if your thermal fuse has blown, then when you replace the thermal fuse you should also replace your dryer's safety thermostat at the same time. The reason is that if your dryer has been running hot enough to blow your thermal fuse, then it has likely been doing a lot of cycling on your safety thermostat and therefore it has been significantly stressed. In fact, most manufacturers sell these in kits that include both parts.

Hope this is helpful.
Home-Wizard.com

QUESTION FROM Shawn
How do I replace the blower wheel in my dryer?
---
ANSWER FROM HOME-WIZARD
Dear Shawn:

Here's a webpage that describes how to replace a blower wheel on a Maytag brand dryer. The procedure for yours may be similar, but will depend on the particular brand of dryer that you have.

http://fixitnow.com/2004/05/mailbag-maytag-or-magic-chef-dryer.htm

Remember, be sure to UNPLUG your dryer before attempting any work on it.

Hope this is helpful.
Home-Wizard.com

QUESTION FROM grmendo
How do I replace the door handle on a Kenmore Elite dryer mod #110.92822102?
---
ANSWER FROM HOME-WIZARD
Dear grmendo:

You should be able to order the replacement handle from Sears online from http://www3.sears.com/ , or by calling them at 1-800-252-1698.

When you talk to them, hopefully they can direct you to an exploded diagram for this particular model dryer that shows how the door handle can be re-installed.

Hope this is helpful.
Home-Wizard.com