Bathroom
Question Topic
Bathroom Replacements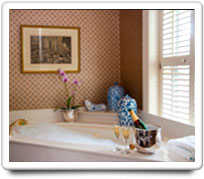 Home-Wizard™ calculates your ideal home care program to avoid problems with your Bathroom, but sometimes trouble can still occur. Here are answers to questions about bathroom replacements.

QUESTION FROM mike.cooley
Trying to replace a bathroom tube restrainer. The existing one is giving me h#@% as I try to unscrew. Any recommendations?
---
ANSWER FROM HOME-WIZARD
Dear mike.cooley:

I'm not exactly sure which pieces you are working on. But if its metal pieces in the bathroom that you are trying to unscrew, you might want to try spraying them with "Liquid Wrench" (or another such penetrating / dissolving oil), then letting it soak in overnight.

And now here's where you need to be careful. When you are trying to break free parts that are stuck together like what you've described, its better to give a sharp pull on the wrench, rather than a long strong tug. But be careful, if you give it too sharp of a tug, you could break or strip the threads.

Hope this is helpful.

Home-Wizard.com

QUESTION FROM John
In my tiled shower their is some grout that is missing. The grout lines are less than 1/8 wide. Can I remove the grout that is failing and replace it with caulking? If so , which would be the best caulking to usr?

Thanks
---
ANSWER FROM HOME-WIZARD
Dear John:

In a tiled shower, caulk should just be used where planes intersect (such as wall to floor, or wall to wall), where there is the possibility of settling or movement. Caulking is flexible, and as such, can accommodate these slight movements without cracking.

If the grout that is missing in your tiled shower is between tiles on a flat wall, ceiling or floor, then I would suggest that you replace the missing grout in these areas with new grout. Grout will last longer, and it also allows these areas to "breathe" as they are drying out. This is especially important for the bottom third of your shower which tends to get more soaked.

Hope this is helpful.
Home-Wizard.com

QUESTION FROM don mcintyre
The thermostatic shower mixer valve on my gravity-fed system has seized up - water trickles out of hose at full-on. I'm told I probably need to replace the cartridge...is this a DIY job?
---
ANSWER FROM HOME-WIZARD
Dear Don:

Yes, for many people, replacing the cartridge on a thermostatic shower valve can be considered a do-it-yourself task. If it helps, here is a short video that shows how to replace a shower mixing valve cartridge:

http://www.youtube.com/watch?v=fu8fvlzbh_E

Hope this is helpful.
Home-Wizard.com

QUESTION FROM richard
how do you replace leaking seals on a shower mixer valve
---