Bathroom
Question Topic
Bathroom Leaking Faucet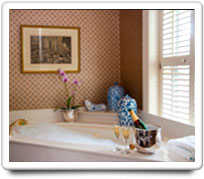 Home-Wizard™ calculates your ideal home care program to avoid problems with your Bathroom, but sometimes trouble can still occur. Here are answers to questions about bathroom leaking faucet.

QUESTION FROM Corrine Hinkle
My bathtub faucet is leaking. I have searched your website but cannot find out how to change the washer, which I hope is the only problem. There is no shutoff to the tub faucets. Please, please help me as you-all have previously on grout problems. Thanks in advance.
---
ANSWER FROM HOME-WIZARD
Corrine:

Here is a video that show's how to change the washer on a bathtub faucet: http://www.youtube.com/watch?v=vf7Z8kzS2Fo&feature=related As you'll see on the video, you are not able to shut off the water at the tub, you have to shutoff your main water supply to the house.
The video link above is for a "mixer valve" type faucet. But if you have separate hot and cold handles, just let us know, and we'll see if we can help you with this.

Hope this is helpful.
Home-Wizard.com

FOLLOW-UP FROM Corrine
Thank you for the quick response. However, yes, we do have a hot faucet (leaking) separate from the cold faucet on that tub. I certainly hope you can help me.
---
ANSWER FROM HOME-WIZARD
Corrine:

If you have two separate valves (one for hot and one for cold), then here is a video that hopefully will help you fix your leak: http://www.ehow.com/video_117402_fix-faucet.html Note that per my earlier email, that you will not be able to shut off the water at your shower/tub, but rather you will need to shut off the water to your entire house.

Hope this is helpful.
Home-Wizard.com