Freezer (stand-alone)
Question Topic
Freezer (Stand-Alone) Miscellaneous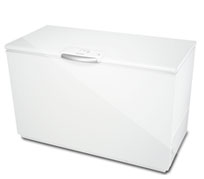 Home-Wizard™ calculates your ideal home care program to avoid problems with your Freezer (stand-alone), but sometimes trouble can still occur. Here are answers to questions about freezer (stand-alone) miscellaneous.

QUESTION FROM Joan Canter
I have owned a Wizard freezer for 48 years and it is still running beautifully, although I know any day it will die. Was just wondering who made this freezer way back because I would love for them to know it has been a great freezer.
---
ANSWER FROM HOME-WIZARD
Dear Joan: Here's what I could find for you . . . The following is a link which shows a newspaper advertisement from 1956 for Wizard brand freezers: http://store.vintagepaperads.com/servlet/-strse-19189/1956-Wizard-Master-Freezer/Detail I could not find a manufacturer, but as you can see by the ad, Wizard freezers were sold in the 1950's through Western Auto. In 1987, Western Auto was bought by Sears. So it may be a bit of a long shot, but you might want to call Sears' toll-free number (1-800-549-4505), and ask them if they can track down who was the manufacturer was of the Wizard freezers. Or maybe you would want to send your regards to Sears as the owners of Western Auto, who was selling Wizard freezers back then? Hope this is helpful. Home-Wizard.com

FOLLOW-UP FROM Joan
Thank you so much for doing the research on my freezer. I will follow through and talk with Sears.
---
ANSWER FROM HOME-WIZARD
Joan: . . . you are very welcome. I hope that Sears is able to help you. As you said, there are not many appliances that are running great after almost 50 years! Regards, Home-Wizard.com