Electronic Air Cleaner
Question Topic
Electronic Air Cleaner Thermostat Issue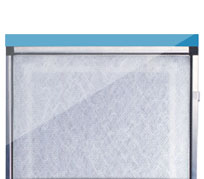 Home-Wizard™ calculates your ideal home care program to avoid problems with your Electronic Air Cleaner, but sometimes trouble can still occur. Here are answers to questions about electronic air cleaner thermostat issue.

QUESTION FROM Steve Weeks
I have an electronic air cleaner that is most effective if the fan runs continuously. My old thermostat allows the fan to operate while still controlling the furnace/ac system. Will a programmable thermostat do the same?
---
ANSWER FROM HOME-WIZARD
Dear Steve:

It sounds like the way you had been operating your heating system is to set your fan to the "on" position on your thermostat, and then depending on the temperature in the room, your thermostat would call for heat from the furnace when you had it set to "heat", and would call for AC, when you had it set to "cool" and it was too warm. But the fan would be circulating air the entire time, because you had the fan setting on the thermostat put in the "on" position, rather than to the "auto" position, right?

Then to answer your question, it will depend on which programmable thermostat that you get, and whether it allows you to set the fan to "on", rather than be in just auto fan mode. Most programmable thermostats have this feature, but it is worth checking to be sure before you purchase and install it.

Hope this is helpful.
Home-Wizard.com

FOLLOW-UP FROM Steve
That's exactly how it was set up. I bought a Honeywell RTH6400D thermostat but don't want to install it unless the fan can run. My wife has allergy-induced asthma so it's important to keep the air cleaner running.

Your help is greatly appreciated.
---
ANSWER FROM HOME-WIZARD
Steve:

If you want to double check that a RTH6400D Honeywell thermostat will allow the fan to run continuously, and still have your furnace or air conditioning be thermostatically controlled, you might want to contact Honeywell's customer service, and ask them before you install it.

Here's their toll-free phone number: 1-800-328-5111.

When I've called them in the past with questions, they've been very helpful.

Hope this helps.
Home-Wizard.com

FOLLOW-UP FROM Steve
I'll give them a call. Thanks again.