Preparing Your Home For Winter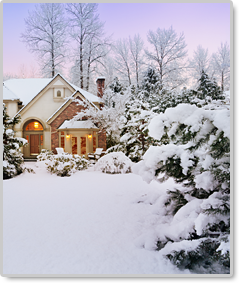 Winter can be very hard on both your home and your pocketbook. This article gives you a checklist of things you can do to both protect your home, and to help to reduce your energy bills this winter:
Seal Potential Air Leaks
. Air leaking around windows, doors, pipes, and where building materials meet will cause you to have higher energy bills this winter. A little bit of weatherstripping and caulking goes a long way towards cutting your utility bills.
Paint or Seal Any Exposed Wood.
Unprotected wood will take a real beating by harsh winter weather, and can result in wood rot and water penetrating into your home (helpful accessory:
clear wood sealers
).
Cover AC Units
. Covering your outside air conditioning units can help protect this expensive equipment from the winter elements (helpful accessory:
AC covers
).
Check Emergency Supplies
. Even if you have well-stocked emergency supplies (batteries, candles, food, water, etc.) you should still check to be sure that they are all still there, and that the supplies are all still fresh (helpful accessory:
emergency kits
).
Tie-up or Cover Bushes and Shrubs.
Tying up your bushes and shrubs can help protect them from being destroyed when they become covered with heavy ice or snow.
Inspect Large Trees.
Trees which could potentially hit your home, fence or on-property structures should be inspected prior to the winter, and any likely hazards should be addressed.
Take Down Screens and Put Up Storm Windows.
Screens can be easily damaged by ice and flying debris. And of course storm windows helps reduce heat loss from your home.
Inspect Outside Light Bulbs
. If you have light bulbs that have burned out, then you will want to replace them before the winter makes doing this more difficult, and when the short days make the outside lights more necessary.
Check Roof De-Icing Cables
. If your home uses electric tracing cables to de-ice your roof to prevent "ice dams," then you should inspect your cables prior to the winter.
Check CO Monitors and Smoke Detectors
. Especially if you have a gas or oil-fired heating system, you should check your CO monitors and smoke detectors prior to the winter and test them monthly (see types, costs, and reviews of
CO monitors
).
Secure BBQ and Patio Furniture
. If you have a barbecue or outdoor patio furniture, you should secure them from the winter elements.
Inspect for Pest Control
. Some pests like to find someplace warm to spend the winter. If you don't want company from them in your home this winter, then you will want check that all of the potential openings to your home (around pipes, through attic vents, etc.) are sealed off.
Drain Outside Water Faucets
. Outside water faucets can freeze and crack, causing water to leak into your home. Here is our video showing how to properly drain the water from them:
http://www.youtube.com/watch?v=63WIAboJNWw
Clean and Inspect Gutters and Downspouts.
Your roof gutters and downspouts protect your home from water building up around your foundation. You should check to be sure they are properly channeling water away from your home.
Clean Basement Window Wells.
The build-up of leaves and debris should be removed from your basement window wells to prevent water damage, pest infestations, etc.