Getting Your Window AC Unit Ready for Summer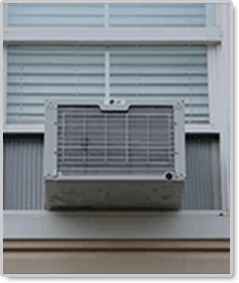 If you have a window-mounted air conditioning unit, then you will want to take a few simple steps before it gets too hot outside, to be sure that you are getting its full cooling capacity at the lowest energy cost. This article explains what you can do to get your AC unit ready to deliver cool, quiet, efficient performance that will keep your family feeling comfortable.
As you might guess, the first thing to do is to replace the air filter on the unit (see types, costs, and reviews of
various sizes of AC filters
). Even if it looks clean, you should still replace your air conditioner unit's filter at least once per season. A dirty air filter reduces air flow through your unit, which results in reduced cooling capacity, and therefore the unit must run longer (consuming more energy) to cool down your home. A dirty filter can also increase noise levels, both from the unit itself, and because it has to run longer.
Next, you will want to use a clean damp rag to clean the exterior of your air conditioner, especially the air vents. However, be careful not to bend or damage the fins, as these are what enable the unit to transfer heat out of your home. If the fins have gotten damaged, then you will want to use a "fin comb" to straighten them back out (see types, costs, and reviews of
AC coil cleaners
).
Then you will want to check to be sure that the condensate drain is clear, not blocked, and does not pour water on anyplace where you do not want it to go.
And finally, you should inspect around the outside of your unit to ensure that shrubs, bushes, etc. are not blocking air flow around your air conditioner. On one hand, it is good if you have foliage which can block the sun and allow your unit to operate cooler. But you do not want these to be so close that it blocks efficient air flow around the unit.