Turning Your PC into a Home Security System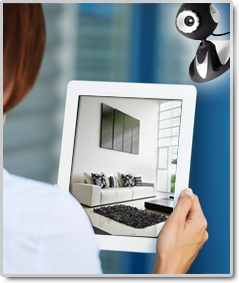 If you have a computer and a webcam, there is now free software available that can turn your computer into a high-tech home monitoring system that can detect motion and automatically record what's happening, and can even send you pictures to your cell phone.
We looked at a variety of applications. Some work with webcams, some work with IP cameras, and some worked with both. And some of the applications work with free software, while others work with free webware (that does not require downloading any software). We'll start with some examples that use free software.
Free Software
Here is an example of free software that you can download to turn your PC (or in one case, your PC or MAC) into a home surveillance system:
Yawcam is very easy to set up, but it has some very sophisticated features. For example, it lets you set whether you want to capture all of the motion within the frame or just a part of it. You can have it upload screenshots to a remote FTP site (which is a good idea, in case your computer is stolen), or it can send it as an e-mail.
Free Webware
If you do not want to install any software on your computer, here is an example of "webware" options which operate through the browser on your computer:
Ugolog is an easy-to-use, web-based surveillance application that displays live footage and snapshots from your Webcam. It works with any camera that's attached to your computer or a remote camera with an IP address. However, it's free usage plan only provides a limited amount of monthly storage.
Other Options
There are other options that you might want to consider, although these will require you to spend some money:
outdoor webcam or IP cameras, which are made to withstand the weather.

special webcams which are hidden inside items such as stuffed animals, etc. (helpful accessory: hidden cameras).

outdoor webcams which are camouflaged to look like rocks.

webcam or IP cameras which are wireless.

software that has additional features.
So if you already have a computer and a webcam, there are a number of free options which will allow you to turn your computer into a sophisticated home surveillance system. And if you are will to spend some additional money, there are other options which will enable you to add additional features (helpful accessory:
video security systems
).