Creating a Smarter Home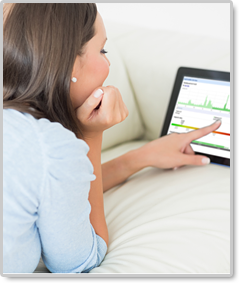 There are new web apps and devices coming out that can help you save energy, improve safety and increase the convenience of your home by making your home "smarter." "Smart home" is a term that is used for describing web apps, devices, and systems that automate your home to make managing your home easier and better.
Some elements of smart home apply to individual appliances, and others apply to whole house systems. And some involve improved monitoring, and some involve improved control. It is easy to get confused, so in this article we will go through how various smart home innovations can help you with the following aspects of your home:
Electricity Use

Energy Pricing

Temperature Control

Flood & Water Alerts

Sump Pump Performance

Humidity

Home Security

Lighting

Appliances

Home Entertainment Systems
ELECTRICITY USE
There is an old expression that "what gets measured, gets managed." So if you are unhappy with the size of your monthly bills for your home's electricity use, then one of the key steps to better manage your home's energy use, is to better measure how you are using electricity around your home, so that you can understand what changes you should make. And hopefully these insights will also help further motivate you to complete the energy-saving tasks in the monthly personalized reminders that you get from Home-Wizard.com!
There are some fairly inexpensive energy monitoring devices which you can get, that will show you what the energy use is for
individual appliances
around your home. Examples of these include:
Kill-A-Watt Usage Monitor
and
Watts Up Power Meter
. These kinds of devices can help you identify the energy hogs in your home, that you will want to avoid using. You just plug in each appliance into one of these devices, and it which will display how much power it is using.
In addition to devices that measure electricity usage of individual appliances, there are other new energy monitoring devices which measure the energy use of your entire home. Examples of these
whole-house electricity monitoring
devices include:
The device has an optical sensor that you place on the outside of your electric meter, and it sends a radio signal to a desktop device in your home, which displays your on-going energy usage and cost.
in addition to allowing you to see whole-house energy use, it can control appliances, etc. Works with utility smart meters, or an add-on device to measure.
has partnered with utilities across the country. Can be integrated to control thermostats, appliances, etc.
displays total energy use in your home.
By using these web apps and devices, you can gain insights which are reported to save you 5-15% on your energy bill. These insights can include:
Where do you have vampire power appliances, which suck electricity even when they are turned off? (For info on "vampire power," see the article Stop Paying for Electricity 'Vampires').

Are there time periods that you should try to avoid electricity use, because your local utility has tiered pricing?

Do you have appliances that are stuck in the "on" position, and are continually drawing power?

Do you have appliances which appear to be drawing excessive current amounts?

Is the billing information from your local utility correct?
ENERGY PRICING
In addition to knowing how much energy you are using, it is also helpful to know what are your pricing options.
Electricity
: More utilities are beginning to have "time of use" pricing, which means that during their peak usage periods, they charge more for electricity. In some cases, the utility can be charging 5 times higher rates in peak periods. The purpose is to get their customers to reduce consumption during these peak periods, when it is most costly to meet demands (and typically requires the use of their most environmentally un-friendly power generating facilities). You will want to check your local utility's website to confirm their time of use pricing, so that you are aware of their peak periods, and how much your pricing goes up during these times. That way you can avoid using your appliances (dishwashers, dryers, air conditioning, etc. during these times).
In addition to being aware of utility pricing options, depending on which states you live in, you may also have non-utility electricity price options. Here is a webpage from the US Energy Information Administration, which tracks the customer choice status (deregulation) state-by-state:
http://www.eia.doe.gov
Oil & Propane:
If you use oil or propane for your home, then you will want to be aware of pricing options that are available for where you live. Here are several price-tracking websites that you might find helpful:
TEMPERATURE CONTROL
Since a significant amount of your home energy bill is for heating and cooling your home, smart temperature control devices can help you save energy. There are three types of smart temperature control devices: 1) programmable thermostats; 2) web-enabled thermostats; and 3) low-temperature alerts.

Programmable Thermostats
: programmable thermostats can be set so that your thermostats automatically go up and down at different times during the day. So for example, in the winter at night after you go to sleep, the temperature can be set to go down while you are sleeping, and then come back up before you wake up. And then during the day, it can be programmed to go down while you are gone, and then come back up just before you get home. Examples include:
Lux Smart Temp Programmable Thermostat
Honeywell 7 day programmable thermostat

Web-Enabled Thermostats
: These types of programmable thermostats are connected via wi-fi or other home networks, and can be accessed through a web browser on your computer. Examples include:
Radio Thermostat Company
Ecobee Smart Thermostat

Low-Temperature Alerts:
The third type of smart temperature control devices is low-temperature alerts. If you have a vacation home or a greenhouse, or if in general, you want to be alerted if the temperature in your home falls below a set point, then these low-temperature freeze alerts are very useful. Examples include:
Control Products FreezeAlarm
Homesitter Multi-Functional Alarm
(also provides water and power-loss alerts)
WATER & FLOOD ALERTS
Since water leaks and floods can cause costly damage to your home, and create mold problems that can haunt your home for years. Devices which continuously monitor for water leaks can alert you to problems as soon as they start. Examples of these include:
Homesitter Multi-Functional Alarm
(also alerts for low temperature and power-loss situations).
Smart Electronic Water Detector Alarm
Sonin Water Alarm with Dual Sensors
Zircon Electronic Water Detector, 3-Pack
SUMP PUMP PERFORMANCE
If you have a sump pump in your home, then a failure of your sump pump can lead to flooding in your house. Sump pumps can fail for a number of reasons: motor failure; stuck float; power failure; etc. In addition to the water alerts mentioned above, here is an example of a monitor that is designed to hang down into your sump pump pit, and alarm whenever the level in the pit is too high:
Reliance Sump Pump Alarm and Flood Alert
HUMIDITY
As you may have read in our February 2011 Newsletter article, monitoring and maintaining the proper humidity level in your home is important to your health, comfort, and to maintain the condition of you fine wood appliances, cabinetry and wood flooring. And further, in the wintertime low humidity levels can increase your energy bills by making your home feel colder.
There are lots of devices for monitoring the humidity levels in your home, and here is just one example:
Honeywell Wireless Indoor/Outdoor Thermo-Hygrometer
And regarding how to control the humidity in your home, you can read about alternatives in the same February 2011 article on home humidity
HOME SECURITY
Like the other areas above for making your home "smarter," when it comes to home security the options also range from relatively low-tech up to more expensive high-tech solutions.
For example, you can improve your home security with low-tech options such as automatic timers for indoor and outdoor lighting, or motion-detectors for outdoor lighting:
Driveway Sensor and Receiver
Intermatic Appliance Timer
(has a random setting to look more natural when on vacation)
And in our October 2010 Newsletter, we published an
article on new software and devices
that allow you to use your home computer to operate home security systems which you can access via the web, and in some cases smartphones.
Of course, there are sophisticated systems from traditional home security companies like ADT, Brinks, etc.
LIGHTING CONTROL
Controlling the lighting in your home can also be made smarter with a range of devices, from low to high tech.
As mentioned under Home Security above, lighting can inexpensively be controlled with local timers and motion detectors.
In addition, there are modest lighting control systems, such as:
Hunter Home Light Control
(automates plug-in lights around your home)
Or very high-end systems, such as:
Lutron Radio RA
APPLIANCE CONTROLS
Below are some examples of how to make the appliances in your home smarter.
Reducing "Vampire Power" from Un-Used Appliances:
Raydem Smart Power Strip
Remote Control Outlets:
Stanley Wireless Wall Switch Transmitter
Refrigerator / Freezer Thermometer:
Orka Fridge and Freezer Thermometer
Refrigerator / Freezer Wireless Temp Alert:
AcuRite Wireless Refrigerator/Freezer Thermometer Alarm
Drapes / Blind Add-on Motor:
Drapery and Blind Controller
and:
20-Foot Motorized Drapery Control
And then there are whole-house solutions, such as
HomeSeer
, which uses Z-wave technology to connect to any device in your home that uses Z-wave technology.
HOME ENTERTAINMENT SYSTEMS
Making your home entertainment system smarter can start with something as basic as adding a touch-pad universal remote to integrate your entertainment appliances:
Logitech Universal Remote with Color Touch Screen
Or at the high-end, there are whole-house systems that allow you to bring together all of your family's CDs, MP3s, and other media into one single system, and access them from anywhere in the house. An example of one of these systems is Crestron.