Top 5 Tasks for March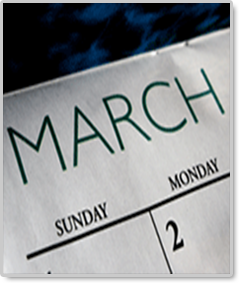 If you only do five home maintenance tasks during the month of March, here are the ones that we suggest that you do, that will help you protect your home and keep your family safe.
Attic Inspection
If you were to take a flashlight and go up into your attic space, what do you think you might find? Evidence of pests? Water stains from leaks? Blocked vents? Left alone, problems like these can turn into bigger and more expensive problems. This is why at least once a year you should go up in your attic and look around. March is a particularly good month to inspect your attic because it won't be too cold or too hot up there. But if you are uncomfortable doing this yourself, then you might want to consider contacting a home inspector or handyman service. For more information about inspecting your attic, you can read our article: "
Why Would I Ever Want to Go Up in My Attic ???.
"
Smoke Detector Cleaning
Hopefully, you already know the importance of routinely testing your smoke detectors and replacing their batteries. But did you also know that you should also routinely clean your smoke detectors as well? For your smoke detectors to operate properly, the sensor in your smoke detectors must be clean so that they can properly test the air that is circulating through them. To learn why and how to clean your smoke detectors, you can see our article: "
Why and How to Clean Your Smoke Detectors.
"
Ceiling Fan Care
If you have a ceiling fan, March is a good month to do routine maintenance for this great home energy-saver. First, you should switch the direction of your fan's rotation. In the winter it is better to have your ceiling fan blowing upwards, so that it pushes the warm air from the ceiling up and then gently down your walls, without creating a "wind chill effect." But in the spring and summer months, you want to feel this wind chill effect. So you should change your fan's direction to blow downward. Second, you should clean your fan's blades, and check that the unit doesn't wobble when it is running. And lastly, if you have a model that requires lubrication, you should oil it in accordance with your manufacturer's recommendations (helpful accessory:
ceiling fan dusters
;
ceiling fan lubricants
). For additional information about ceiling fan care, you can see our article: "
Ceiling Fans: What You Should Know
"
Drapes & Blinds Care
March is also a good month to get a jump on your spring cleaning by doing annual care for the window treatments around your home. Routine cleaning is a great way to keep your drapes and blinds looking their best and lasting longer. Plus, routine cleaning helps eliminate nests for pests.
Caring for Your Furniture
And lastly, March is a good time to do the annual care for the furniture in your home. Regardless of whether your furniture is made of fine wood, leather, or upholstery . . . at least once a year you should take the time to do a thorough cleaning and conditioning of all of the furniture in your home. For more information about how to care for the various types of furniture in your home, see our online
How-To Guide
.