Why and How to Clean Your Smoke Detectors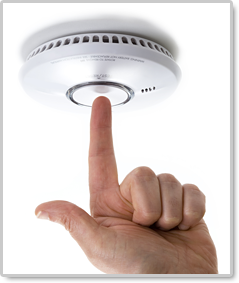 Hopefully you are changing the batteries in your smoke detectors at least once a year. But did you know you should also clean your smoke detectors at least every six months? Dust, pollen, smoke can all make the sensor in your smoke detectors dirty and prevent them from operating properly in an emergency. This article explains why and how you should clean the smoke detectors in your home.
Why?
There are two basic types of smoke detectors: photoelectric, and ionization.
An ionization type smoke alarm uses a small amount of radioactive material to ionize air in the sensing chamber. A photoelectric type smoke alarm, in comparison, consists of a light emitting diode and a light sensitive sensor in the sensing chamber. Photoelectric smoke detectors are designed for detecting smoke where there is smoke but not necessarily flames. Photoelectric smoke detectors are the most widely used type of detector. Ionization type detectors work best for rapidly spreading fires in combustible materials, where there are lots of flames but little smoke. Ionization type detectors are often used in kitchens, since they are less likely to be falsely triggered by cooking fumes.
Regardless of the type of smoke detector you have, it is critical that their sensors be clean so that they can properly respond to changes in the environment in your home. Over time, dust, pollen, pet dander, cooking vapors, smoke, etc. from the air in your home can begin to build up on the sensors in your smoke detectors. This build-up that forms over your sensors acts as an insulator which reduces the performance of these sensors (helpful accessory:
dust wipes
).
To make sure that your smoke detectors react properly in an emergency, it is critical that they be properly cleaned out.
How?
Once every six months, we recommend that you clean your smoke detectors. Cleaning your smoke detectors involves two activities: 1) vacuuming out the unit; and 2) wiping down the outside vents.
To vacuum out the unit, you should follow your manufacturer's recommendations for routine cleanings. Typically this will involve removing the face of the unit and then using a soft brush attachment for your vacuum cleaner to gently brush and vacuum the inside of your smoke detector (see types, costs, and reviews of
vacuum cleaners
).
In addition to vacuuming the inside of your smoke detector, you should also use a clean wipe and mild detergent to remove build-up from the outside of your unit. In particular, you will want to clean the vent openings, to ensure that airflow is not obstructed to the sensor inside the unit.
If you are not sure how to clean your smoke detector, you should at least vacuum the outside of the unit, which will draw air through the vents in the face of the unit.
Summary
We hope you never have a smoke detector go off in your home. But this should NOT be because your smoke detector failed to operate because the sensor was dirty. Hopefully this article has convinced you of the importance of routinely cleaning your smoke detectors, and has helped you understand how to properly clean them.