Oven (electric)
Question Topic
Oven (electric) Replacement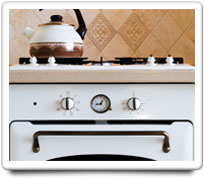 Home-Wizard™ calculates your ideal home care program to avoid problems with your Oven (electric), but sometimes trouble can still occur. Here are answers to questions about oven (electric) replacement.

QUESTION FROM Melora
I have a 20 year old downdraft slide-in range made by Kenmore. The oven doesn't work and has an F3 code not remedied with a new temperature sensor. Repair man says I must replace range because he concludes there is a failure with the control panel, and it's not worth replacing the part and I might not find the part. Question, do you agree with his conclusion, and also, can I replace this downdraft range with a slide-in that has no downdraft? There is a window above the range and I can not install a vent overhead. The downdraft was pretty useless anyway so I hate to spend the extra $1000 for it.

Thank you!
---
ANSWER FROM HOME-WIZARD
Dear Melora:

Regarding your question of whether you need to replace your 20 year old Kenmore range just because the control panel has failed, I would suggest that you contact Kenmore and ask them directly. Here's their toll-free number for product questions: 1-888-536-6673

As far a replacing your range with a model that does not have a downdraft vent (when you cannot install an overhead vent), I would strongly recommend that you have a downdraft vent. There are major safety reasons for having a vent for range. And if you can't have an overhead vent hood, then you should definitely have a downdraft vent for your range.

Hope this is helpful.
Home-Wizard.com

FOLLOW-UP FROM Melora
Thanks so much for the detailed info.

Your service is terrific.