Ceiling Fans
Question Topic
Ceiling Fan Not Turning On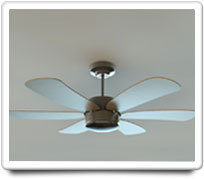 The Home Wizard app calculates your ideal home care program to avoid problems with your Ceiling Fans, but sometimes trouble can still occur. Here are answers to questions about ceiling fan not turning on.

QUESTION FROM azfinsya
my ceiling fan can't function..how can i know what's the problem of this fan and what steps must i do to repair it.
ANSWER FROM HOME-WIZARD
Dear azfinsya:

If your ceiling fan is not turning on at all, then here's a web page that describes how to test whether your problem is at the fusebox (or circuit breaker), the switch, or with the ceiling fan itself:

http://www.hometips.com/ceiling-fan-does-not-work.html

To test the switch, however, requires that you are comfortable working around live electrical wires and that you have a voltage tester. So this may be something that you want to leave to a trained professional.

Hope this is helpful.
Home-Wizard.com
Ceiling Fans
Q & A
So far, no question have been submitted yet.