Storm Window Care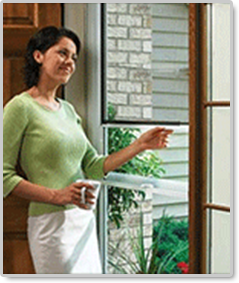 Your storm windows are great for reducing your energy bills by providing an extra layer of insulation which reduces heat transfer from your home. Here are some tips for taking care of your storm windows, so they do their job and stay in good condition.
When you are taking down or putting up your storm windows, check to be sure there is a tightly caulked seal around the edge of the storm windows. Leaks can significantly reduce the performance of your storm windows. Re-apply caulk around the edges as needed. Also, take a minute to clear out any "weep holes." Exterior-mounted storm windows must have weep holes at the bottom of the frame to allow any moisture that collects between the primary window and the storm window to drain out. And while you are working on your storm windows, check your window weatherstripping, and repair or replace as necessary. Also, clear away leaves, twigs, and dirt that accumulate on your outside window sills (helpful accessories:
caulking sealants
;
weather sealing tapes
).
For any hardware on your storm windows, you should apply a light lubricating oil to the mechanism. And to maintain the finish of the hardware, polish it with a non-abrasive automotive or furniture wax. If your hardware is brass and it is tarnished, you may have to clean with a brass cleaner (helpful accessories:
window lubricants
;
brass cleaners
).
If you have wooded frames, clean them, repair any rotted areas as necessary, and apply touch-up paint. If you have aluminum frames, use steel wool to remove oxidation, and use a rag and mineral spirits to wipe down the surface of the aluminum. Vinyl, aluminum, and fiberglass should be buffed and cleaned with a non-toxic or mild detergent solution.
To make your job easier in the spring, remember to mark each storm window with its location as you remove it, so that you know where to reinstall it in fall. It is also a good idea to wash your storm windows before putting them away.
You can save energy in the summertime by leaving your storm windows installed all year around on those windows that you never open. The additional insulation provided by these storm windows will help reduce your air conditioning bills.
And finally, you might want to consider replacing your old-style screens and storm windows with modern, self-storing storm and screen combos.