A New Way of Preventing Dryer Fires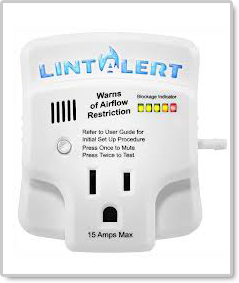 Lint build-up in dryers is a major cause of over 15,000 fires that occur in the U.S. in a year. LintGard is a low-cost, innovative device that monitors and tells you when your dryer duct is becoming blocked by lint, pests, debris, kinks, etc. Over time, lint builds up in your dryer vent system causing reduced airflow and increased back pressure. This reduced air flow results in longer drying times, higher utility costs and an increased risk of a dryer fire.
The way that LintGard works, is that as your dryer duct begins to get clogged, the pressure levels in the duct increase. LintGard measures the back pressure caused by lint build up in your dryer duct. And as the pressure increases, the gauge display on the unit moves up the scale (displayed on the unit in "inches of water column"). Once you see the display move into the yellow or red zone, it's time to clean your dryer vent.
LintGard is about the size of a typical thermostat and can be easily installed on the wall near the dryer. It requires no electric or battery power and plays a vital role in reducing the risk of dryer fires.
You can purchase a LintGard online through Amazon.com for about $50:
Gardus LintGard Dryer Safety Monitor
This innovative product can give you peace of mind, and protects your home from a common cause of house fires.
Related Articles . . .

Clothes Dryer Safety and Energy Tips
Dryers are the second highest energy-consuming appliance in most homes, and lint build-up is one of the major causes of dryer fires. This article gives you tips for keeping your dryer safe and saving energy too.
more ▶

Home Fireproofing: Prevention; Detection; Action
Keeping your home and family safe from fires involves focusing on three areas: prevention, detection and taking emergency actions in the case of an actual fire. 400,000 homes catch on fire each year.
more ▶

Choosing the Right Fire Extinguisher
You should definitely have a fire extinguisher in your kitchen, garage, and workshop. This article explains: the different types of fire extinguishers; how to select the right one; and how to properly use them.
more ▶

7 Things That Can EXPLODE in Your Home!
If your attitude towards home maintenance is I don't want to know about it, unless it will keep my house from blowing up! . . . then you will love this article and video.
more ▶

A Better Sealing Clothes Dryer Vent
Have you ever noticed your clothes dryer feeling cold in the winter and warm in the summer? If so, you are wasting energy, and here is a solution.
more ▶

Preventing the 5 Most Fatal Home Accidents
Home accidents cause more deaths each year than any other reason except for motor vehicle accidents. This article and video discuss steps you can take around your home to prevent the 5 leading causes of home accident deaths.
more ▶