Your New Interactive Home-Wizard Newsletter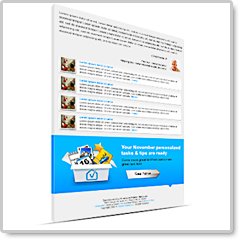 We hope you like the new
interactive
format of the Home-Wizard newsletter! It now provides new benefits and features that will make it easier for you to take care of your home, improve safety, save energy, avoid unscheduled repairs, and more.
Benefits
In addition to monthly articles, the new interactive format of the Home-Wizard newsletter provides you with access to an ideal home care program, that is calculated for you based on your particular type of home, your home features, your goals & priorities, knowledge level, and is even adjusted for the seasons and climate of the state/region that you are in.
So for example if your top priority is keeping your home safe, your recommended home care program will have monthly tasks, tips, and home improvement ideas that will keep your home safe and are specifically selected for your particular home, climate, and knowledge level. The program is initially based on typical goals & priorities, and you can easily adjust these for your particular needs and situation.
And because we all live very busy lives, the newsletter serves as a once-a-month reminder to help you keep up with the critical tasks that will help you to achieve your particular goals for your particular home.
And maybe best of all . This newsletter service is still
free
for you.
Features
The features of this interactive newsletter include:
custom articles:

your monthly newsletter has timely home care articles, and when you personalize your home care program, this personalization also adjusts which articles will be included in your monthly newsletter, that best match your goals, priorities, and situation.

one-click access to your ideal home care program:

your monthly newsletter has an icon on it, and when clicked, this opens your personal home manager that has your recommended home care tasks, tips and home improvement ideas for that month.

marking monthly tasks as 'done':

you can mark your monthly tasks as 'done', and can look back and have a maintenance record of every task done on your home.

assigning tasks to helpers:

an innovative feature is that you can now assign tasks to helpers, and as the helpers complete their tasks, the tasks show up as marked 'done' in your home care program.

custom tasks:

any task can be customized for its timing, yearly cycle, priority, etc. And you can even add your own custom tasks, that will then be automatically included in your monthly home care program.

multiple homes:

if you have a vacation home or are helping to take care of a home for a relative, additional homes can be added to your home care program.
Mobile App Version
As you may know, there is also a free
mobile app version
of the Home-Wizard personal home manager for iPhone, iPad and Android.
When you download the app from
iTunes
or
GooglePlay
, you can put in your existing username and password from your newsletter, and then the app will automatically synchronize all of the information from your existing home care program.
One of the additional advantages of this, is that you will be able to access your home care program from any device. So if you like the convenience of having your smart phone with you during the day, and using a desktop computer or tablet in the evenings . . . you can have your home care program on all of them, and they are automatically synchronized with all of your preferences and all of your home care histories.
And if you get a new phone, or lose your current phone, you can easily get all of your home care program data back onto your new phone.
The mobile app version allows you to put in a
Promo Code
, which enables bonus features of the app. Promo codes are provided by home care professionals as a special benefit to their clients.
Why Home Professionals Offer This Interactive Newsletter
Applica Solutions
developed this interactive newsletter to help home professionals (realtors, home inspectors, builders, contractors, insurance brokers, etc.) to have a value-added way of keeping in touch with their clients.
It is designed to be personalized, highly beneficial, and something that you look forward to (and appreciate) receiving every month. And it is offered by home professionals who want to show their clients that they are truly committed to helping their clients to take care of their home.
So the next time that you are thinking about services for your home, or have a friend or neighbor looking for a referral, that you will definitely be keeping them in mind.