Top Five Tasks for May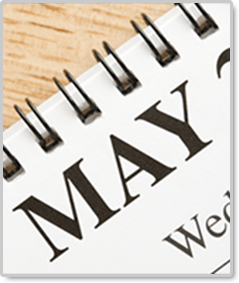 If you only do five routine maintenance tasks for your home during the month of May, here are the ones that we suggest that you do, that will help you catch small problems before they get worse, and keep your home a healthy place for your family.
Pest Control
The month of May is a good time to address pest control issues around your home. In particular, your home should be inspected for any indications that infestations have already started, and you should also block any openings which could allow new infestations to start now that the weather is beginning to turn warmer and pest activity will be increasing.

To learn the 10 areas around your home where you should regularly inspect and clean to prevent pest infestations, you can read our article and video: "Keeping Pests Out of Your Home."
Foundation
May is also a good month to walk around the outside of your home and do an inspection of your foundation. Damage to your home's foundation can cause your home to shift and walls to crack, and termite damage can devastate your home. So by taking just a few minutes to walk around your home, you can check to see if you have any signs of deterioration of your foundation or termite "tubes" forming. And while you are at it, you should also check that the ground slopes away from your foundation and that no soil is touching any wood on your home.

For a description of what to check for, you can see our online How-To Guide on: foundations.
Roof
With the weather turning nicer in May, it is a good time to do an inspection of your roof and roof eaves. Winter can be hard on any home, and with a set of binoculars, you can easily check to see how your roof has fared over the winter. In particular, you should check for signs of loose shingles, missing or damaged flashing, and build-ups of debris. And you should also inspect and clean under your roof eaves.

For more information about what to look for when inspecting your roof and eaves, you can see our online How-To Guide about roofs: roofs.
Basement
If your home has a basement, at least once a year you should do a thorough inspection of it. In particular, you will want to look for: any signs of dampness, leaks or cracks; pest problems; shifting support columns; loose or missing insulation around walls, floors, or HVAC ductwork; and if you have window wells, you will want to clean these out (helpful accessory: water sensor and alarm - basement).

For more information, see our article and video on: "Keeping Your Basement Safe and Dry."
Exhaust Fans
And finally, at least once a year you should clean the exhaust fans in your kitchen and bathrooms. In your kitchen, your exhaust fan for your stove is constantly exposed to moisture and grease, and as this builds up on and in your exhaust fan, it becomes a breeding ground for molds (helpful accessory: handheld vacuums). Similarly, the high humidity environment of your bathroom creates another mold haven for your bathroom's exhaust fan.
You can read about how to clean your exhaust fans in our article and video: "Removing Nasty Gunk From Your Exhaust Fans."