Making Your Leather Furniture Last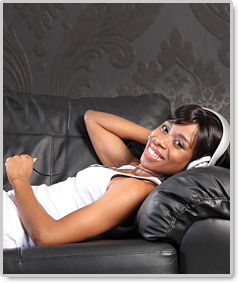 Leather furniture is a gorgeous addition to your home, and with the proper care, it can last a lifetime. This article describes how to protect your leather furniture; how to properly clean it; and when repairs are needed.
Protection
One of the most important things you can do to protect your leather furniture is to be sure that is placed in the proper location. You want to avoid placing your furniture in direct sunlight, as this can cause the leather to fade over time. You will also want to keep your leather furniture away from direct sources of heat or cooling. A good rule of thumb is to keep your leather furniture at least 2 feet away from any heat sources or air conditioning vents, which can dry out and damage your leather (helpful accessory:
leather care kits
).
Another important aspect of leather care is to regularly clean and condition your leather in accordance with your manufacturer's recommendations. You also want to be sure to keep sharp objects and liquids away from your furniture. And if you're going to be on vacation or away from your home for an extended period of time, you might want to consider covering your leather furniture to help protect it from sunlight and dust.
Cleaning your leather furniture
You should regularly dust your leather furniture with a clean dry cloth, or use the soft brush attachment on your vacuum cleaner. If you find a stained area on your leather, use a damp cloth or sponge moistened with lukewarm mild soapy water. Work in a circular motion, starting from the outer edge of the spill and then work towards the middle. And then dry the area with a soft cloth. Do not allow the furniture to be used until the area is completely dry.
If you spill anything on your leather, you should clean it up as soon as possible. Never use aggressive chemicals such as stain removers, cleaning solvents, turpentine, shoe polish, ammonia water, or any other type of chemical solutions on your leather.
Leather furniture repair
If you notice scratches or cuts in your leather, the sooner you can have them fixed by a qualified repair person, the less chance that these will spread. Also if the frame of your furniture or its legs have started to become loose, you should also consider having this repaired by a qualified furniture repair person. And the sooner you have this done, the better.
Related Articles . . .

Getting Rid of Winter Dryness
During the wintertime, the relative humidity in your home can drop below 15% causing a variety of health, comfort and woodwork problems for your home. This article gives helpful ideas for increasing the humidity in your home.
more ▶

Creative Ways for Increasing Home Humidity
Dry air in your home during the winter can cause problems affecting your family's health and comfort, and can damage your home's expensive woodwork. This article gives you some creative options for increasing the humidity in your home.
more ▶

Reducing Humidity in Your Home: Why & How-To
As we head towards the hot summer months, home humidity becomes a problem. This article discusses: the benefits of reducing home humidity; signs that your humidity is too high; and steps you can take to reduce humidity in your home.
more ▶

Caring For Your Fine Wood Furniture
Fine wood furniture is expensive and has many enemies. To protect your fine wood furniture and keep it looking nice for many lifetimes, here are the things you should do to protect and care for your furniture.
more ▶

Caring For Upholstered Furniture
Whether your upholstered furniture is brand new or 100 years old, here are some tips for how to protect it, maintain it, and how to handle routine spills.
more ▶