Become a 'Garden Godzilla' !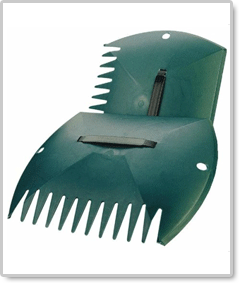 Raking leaves in the crisp autumn air can be an activity that brings the entire family together, big or small, young or old. And we found a low-cost, cool product that can make the job a lot easier for you: "Lawn Claws Leaf Scoops" that you wear on your hands.

The Lawn Claws Leaf Scoops are a good buy for just under $10. With these you can pick up 3 to 4 times more leaves than what you would otherwise with gloved hands. These grabbers work in two ways: you can use the flat side to pick up leaves from hard surfaces, and the rake side for easy pick-up of leaves from your lawn. Just put these on your hands with easily adjustable straps, and now your hands are mean leaf-bagging machines!

The Lawn Claws are easy to clean. Once you are done, just wipe them clean or hose them down and hang it to dry. Sometimes, these can crack since they are made of plastic, but even if they do after the fall season, at under $10 it is worth the buy.

Picking up leaves can be a great family task, and with the Lawn Claws you can get it done a whole lot easier.