Become a 'Garden Godzilla' !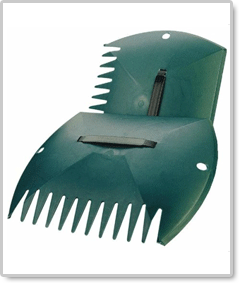 Raking leaves in the crisp autumn air can be an activity that brings the entire family together, big or small, young or old. And we found a low-cost, cool product that can make the job a lot easier for you: "Lawn Claws Leaf Scoops" that you wear on your hands.

The Lawn Claws Leaf Scoops are a good buy for just under $10. With these you can pick up 3 to 4 times more leaves than what you would otherwise with gloved hands. These grabbers work in two ways: you can use the flat side to pick up leaves from hard surfaces, and the rake side for easy pick-up of leaves from your lawn. Just put these on your hands with easily adjustable straps, and now your hands are mean leaf-bagging machines!

The Lawn Claws are easy to clean. Once you are done, just wipe them clean or hose them down and hang it to dry. Sometimes, these can crack since they are made of plastic, but even if they do after the fall season, at under $10 it is worth the buy.

Picking up leaves can be a great family task, and with the Lawn Claws you can get it done a whole lot easier.
Related Articles . . .

What Your Lawn Needs During Autumn
Autumn is an important season for lawn care, because the cooler temperatures provide good conditions for strengthening your lawn, and proper care will both prepare it for the rigors of winter, and help it to get off to a good start in the spring.
more ▶

Xeriscaping: A New Approach to Landscaping
Xeriscaping is a smart and practical way of landscaping and gardening that will save you water, save you time maintaining your lawn, and make a strong statement about your commitment to the environment.
more ▶

Lawn Watering Tips: Better Results and Less Water
With community watering bans becoming more and more frequent, now is a great time to learn how to get the most benefit for your lawn while using the least amount of water.
more ▶

Guide to Automatic Sprinklers
If you have an automatic sprinkler system for your lawn, this article and video will help you understand how your system works, how to winterize, and some operating tips for getting the most out of your system.
more ▶

Lawn Mowing Tips for Nice Lawns & Personal Safety
Whether you do-it-yourself or hire a service, when done wrong, lawn mowing can damage your lawn, making it more susceptible to diseases. And if you do-it-yourself, lawn mowing also poses quite a few safety risks that you definitely want to avoid.
more ▶